ABOUT US

351 N. Main St. Milford, MI
48381
TELEPHONE NUMBER: 248-685-1150
102 E. Main St. Brighton, MI
48116
TELEPHONE NUMBER: 810-220-0015
ROTTERMOND JEWELER GOT ITS START WHEN DEAN ROTTERMOND—AT THE AGE OF 14—BEGAN WORKING AS A STOCK BOY AT THE LOCAL SHIFRIN-WILLENS JEWELRY STORE.
Before long the young man took a "shine" to the jewelry business and began selling giftware items at the store. He eventually became the youngest store manager by the age of 18.
Dean's next move speaks to the vision he had of his future store – he moved to his parents' village of Milford because he loved the small town, the close community and having family nearby. This family-and community-focus is a characteristic of Rottermond's brand identity to this day.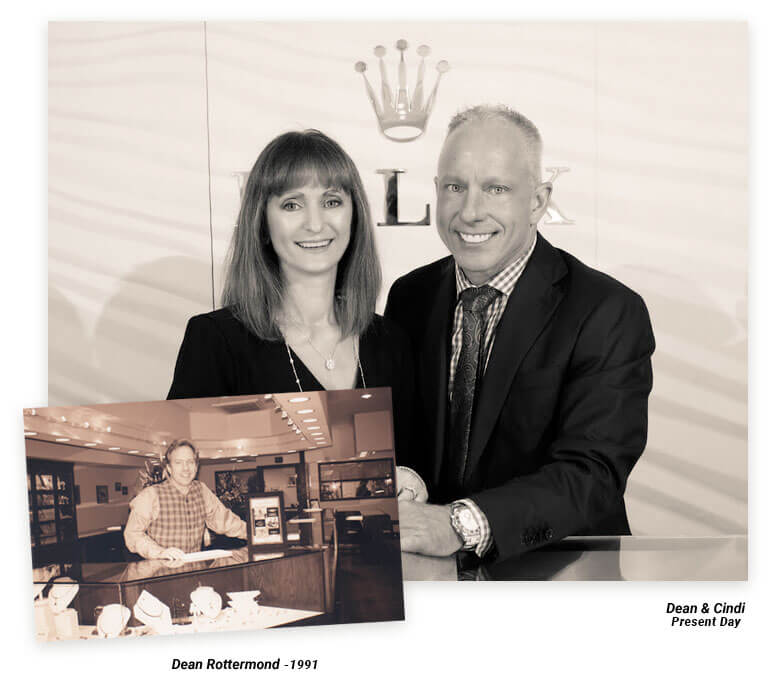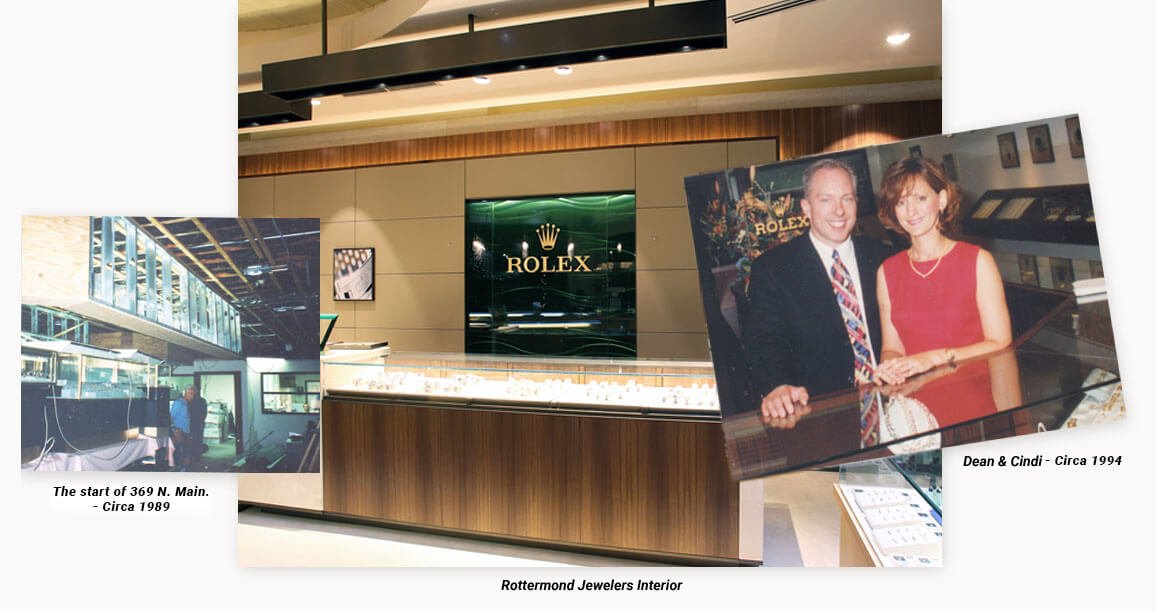 THE SMALL STORE DEAN OPENED, A LITTLE PIZZAZZ, SOLD FASHION JEWELRY AND GOLD. IT WAS A TWO-PERSON OPERATION, BUT HE HAD VISIONS FOR MUCH MORE—BECOMING A HIGH-END CUSTOM JEWELER.
The small store Dean opened, A Little Pizzazz, sold fashion jewelry and gold. It was a two-person operation, but he had visions for much more—becoming a high-end custom jeweler.
During the start-up years, Dean and Cindi lived in an apartment and Cindi worked at Ford Motor Credit. Her steady employment allowed the Rottermonds to continue investing back into their business over the next four years, which helped the business grow.
When the Rottermond's son, Damon, was born things started to change. Cindi's mom, who was going to be Damon's caregiver, passed away suddenly and altered their plan. Cindi decided to take a leave from Ford, take care of their baby and start focusing her business skills on the jewelry store.
To get her jewelry skills up to the same level as her business skills, Cindi devoted herself to learning about gems from Dean. She also attended shows in Tuscan, New York and Las Vegas. Since then she has completed the GIA course on diamonds and is one of the primary buyers for Rottermond's fashion jewelry line today.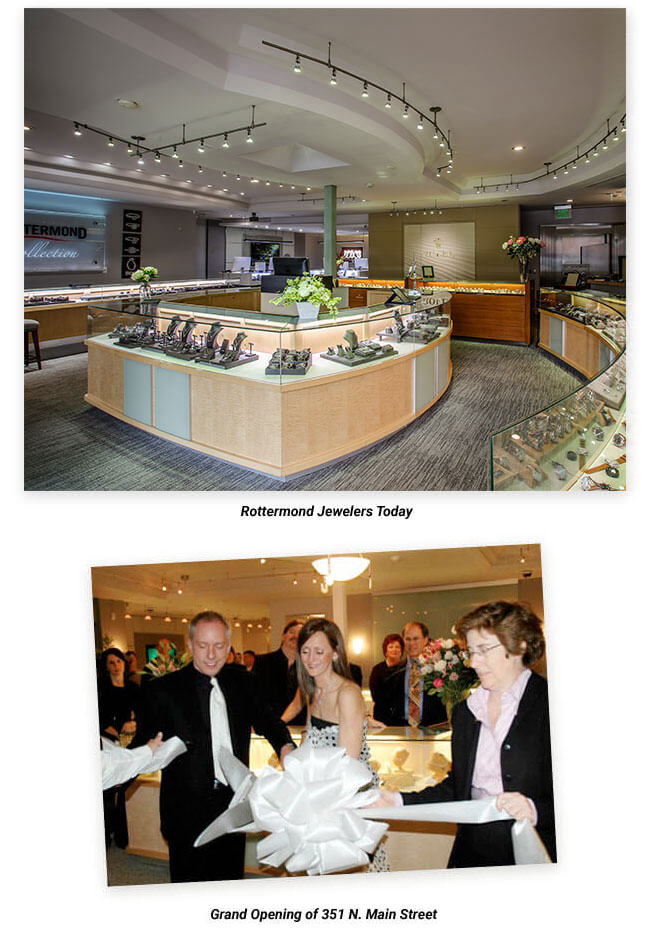 FOLLOWING DEAN'S VISION (AND HIS "ITCH" FOR CONSTRUCTION PROJECTS) THE COMPANY PURCHASED A NEW STORE LOCATION IN BRIGHTON AND STARTED ESTABLISHING THEIR NAME IN THAT COMMUNITY TOO.
They also expanded the Milford location (by purchasing the former Old Kent Bank building). Dean worked with an architect to design the perfect space for a high-end showroom in Milford, as well as corporate offices and an art department. They celebrated this accomplishment with more than 500 people from their community at a gala party.
With the growth of the business, the Rottermonds purchased another Brighton location on the main corner in town. It has a beautiful design that changed the look of the downtown and created what the local paper called a new "gateway" into the community.
The Rottermonds are proud of the journey they have taken to bring high-quality, branded jewelry from around the world to their two main street locations. Being part of these communities is exactly what Dean and Cindi set out to do.
Their staff is the most highly trained of any nearby jewelry store, they provide excellent services for a fair price, they have custom jewelry design that is unsurpassed, and they believe in developing relationships with their clients that will last a lifetime. The Rottermonds value sharing life's greatest moments with their customers. They want to be your family jewelers for life.
—The Rottermond Jewelers Family